A Nile cruise provides opportunities to stop and tour several beautiful temples, including those at Edfu, Kom Ombo, and Philae.  Each of these contains scenes that honor women.  Some temples from ancient Egypt feature scenes of the goddesses Hathor and Isis as madonna figures, an idea expressed in ancient Egyptian art long before Christianity existed.
Edfu
The Edfu temple honors Horus the Elder and his wife, Hathor.  Some of its walls feature scenes of Hathor nursing her infant, Horus the Younger.  Some of these scenes were damaged by early Christians during the Roman era, in an attempt to obliterate the earlier Pagan beliefs.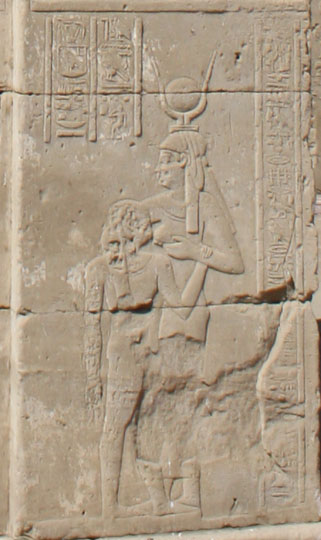 The Edfu temple that stands today is relatively young, though it was built on the site of a much older temple.  It was built after the conquest of Alexander the Great, when the Greek Pharoahs were ruling Egypt. The first stone of today's temple was laid in 237 BCE, and it was consecrated in 142 BCE. This is one of the best preserved temples in Egypt due to having been buried for centuries under sand and river silt deposited by the Nile inundations.
For another of my blog posts about Edfu Temple, see Dance Like an Egyptian!
Kom Ombo
The temple at Kom Ombo, Egypt is unique because it honors two different gods – Sobek (with a crocodile head) and Horus the Elder (with a falcon head).  It's a fascinating temple to visit, with many interesting images on its walls.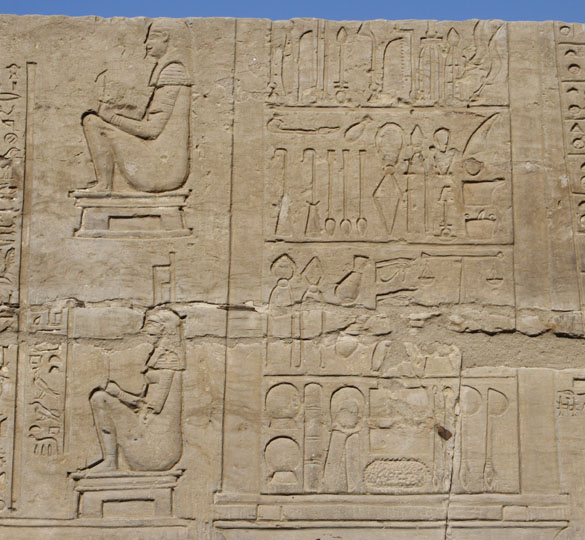 A unique segment of wall that is popular with many of the tourists who visit Kom Ombo is the scene showing two women using birthing chairs to give birth.  The wall to the right of them features images of surgical tools.
The throne-shaped object on the head of the lower woman is a nod to the goddess Isis and her role as a patron of fertility and motherhood.
One of the tour guides I've worked with, Abdul Aly, has proudly pointed out that ancient Egyptians have known about the benefits of delivering babies while sitting up in birthing chairs for at least 2,000 years. In contrast, modern Western medicine only started to embrace birthing chairs and the upright posture since about the 1980's.
Like Edfu, Kom Ombo was built during the period of the Greek Pharaohs, on top of an older temple site.  Construction lasted from 180 BCE to 47 BCE.  In addition to the birthing chair scene, I was very fond of the on-site museum featuring crocodile mummies.  Another of my blog posts shows the Nilometer at this temple.
Philae
Philae Island at Aswan hosts the beautiful Nubian temple of Isis.  Construction began around 690 BCE, on a site that had hosted an older structure.  In the 1960's, the island was flooded by the rising waters of the Nile caused by the Aswan High Dam, and Philae was one of the temples moved to a new site on higher ground funded by UNESCO.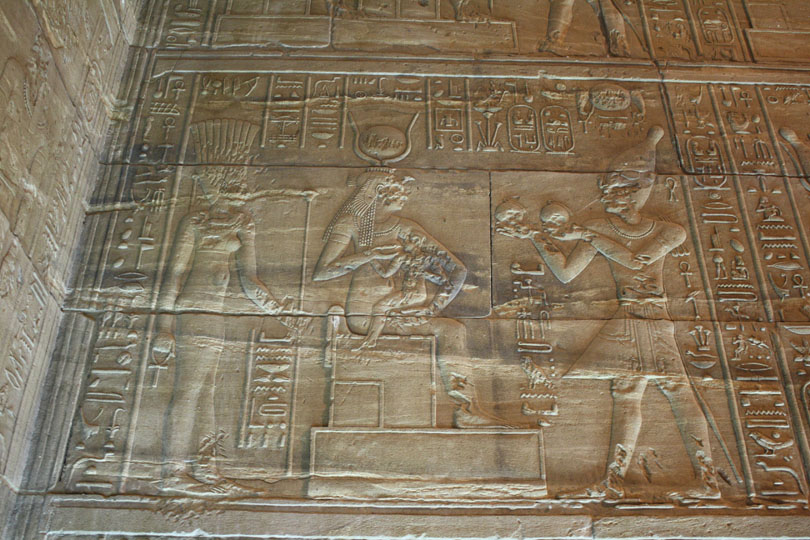 There are several images of Isis nursing the baby Horus in this temple.  These resemble the madonna-style images of Hathor with Horus at Edfu. There is some overlap of the stories regarding Hathor (which were earlier) and Isis (who came later.)  Unfortunately, many of the images of Isis with Horus at Philae were vandalized during the Roman era by early Christians who were trying to obliterate the earlier Pagan religion.
Closing Thoughts
I've featured highlights of how ancient Egypt honored motherhood by selecting three must-see images to watch for that are easy to find if taking a Nile cruise or a Luxor-to-Aswan tour.  But these are just a few examples.  Keep looking on your own, and you're sure to discover more of them in statues (in museums), tombs, and other temples.