Traveling offers many opportunities to see beautiful sunrises and sunsets.  In this blog post, I'd like to share my photos taken in Egypt, Morocco, and Senegal.  These are all my original photos, and my property.  Please do not steal them.
Sunrises and Sunsets in Egypt
I have traveled to Egypt 12 times, so naturally I've had many opportunities over the years to photograph sunrises and sunsets there.  Here are my favorites.
At the Pyramids of Giza Near Cairo, Egypt
Any post celebrating sunsets in Egypt clearly needs to start with the sun setting behind the Pyramids of Giza!
This sunset photo was taken in February, 2017 when I went to Egypt as part of Sahra Kent's "Journey Through Egypt 3" tour.  We stayed at the Sphinx Guest House, which is a bed & breakfast place in Giza, Egypt (near Cairo).  This was the view from our window! If you look closely, you can see the Sphinx in front of the middle pyramid.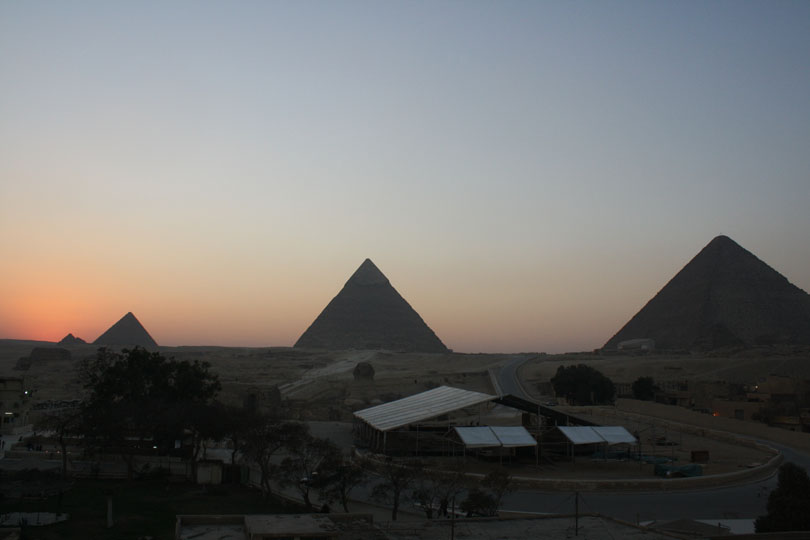 And because I love Egypt and its pyramids so much, here's a sunset photo I took in February 2016.  This year, too, I accompanied Sahra's "Journey Through Egypt" tour, and I took this photo from my room at the Sphinx Guest House.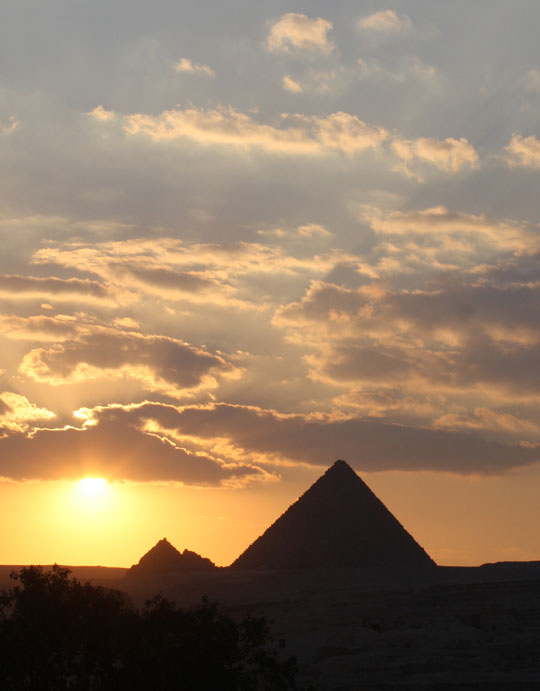 I caught the sunset at a different point in February, 2015.  This year was the first time I accompanied Sahra on her "Journey Through Egypt" tour, but it wasn't my first time in Egypt. This photo offers more light, and therefore a clearer view of the Sphinx.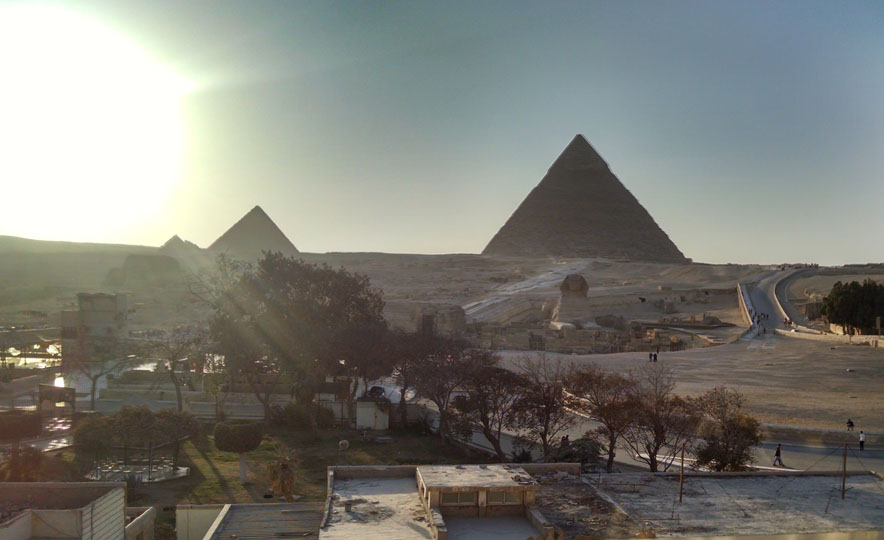 One of my favorite photos that I have taken in my travels is one of the moon rising over the Great Pyramid. I sat with friends in the garden cafe at the Mena House hotel, and this was our view.  I had accompanied my friend Morocco to the Ahlan Wa Sahlan festival, which was held at Mena House.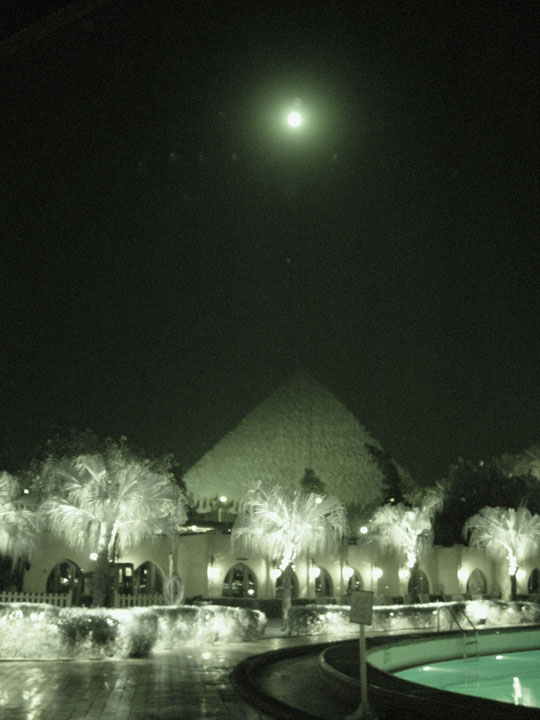 The Overnight Train from Cairo to Luxor
It's about 400 miles from Cairo, Egypt to Luxor.  An affordable way to make the trip is via an overnight train with sleeper cars.  The train leaves Cairo late in the afternoon, which allows an opportunity to watch the sun set while you're making the journey.  I took this photo in February, 2016.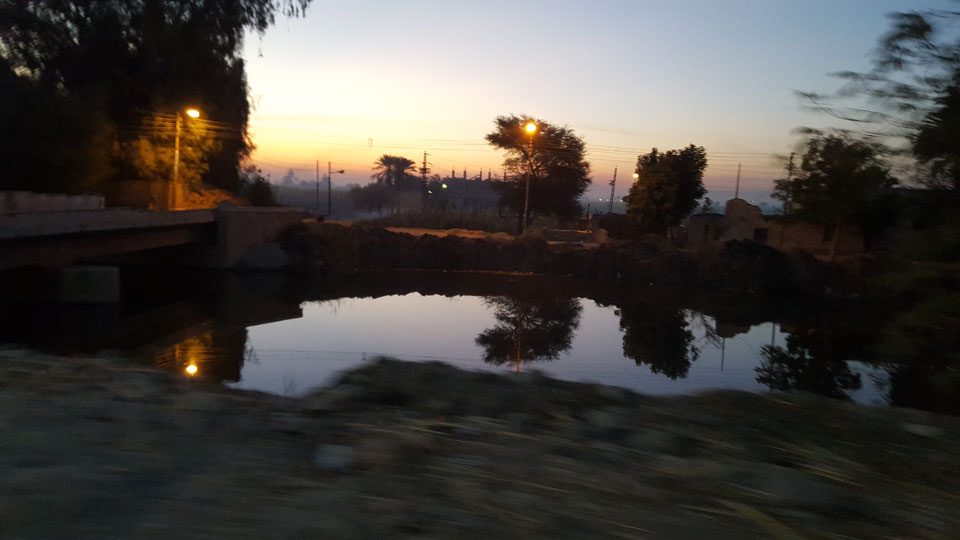 At Lake Nasser, at the Abu Simbel Temple in Southern Egypt
Twice a year, on February 22 and October 22, the rays of the rising sun pierce the inner chamber of the Temple of Ramses at Abu Simbel, Egypt.  On this date, the light shines on Amun-Ra of Karnak, Ra-Horakhti of Heliopolis and Ramses II, but the fourth god in the sanctuary, Ptah of Memphis, remains always in shadow.  I was there for this event on February 22, 2015, when I accompanied Sahra Kent on her "Journey Through Egypt" tour.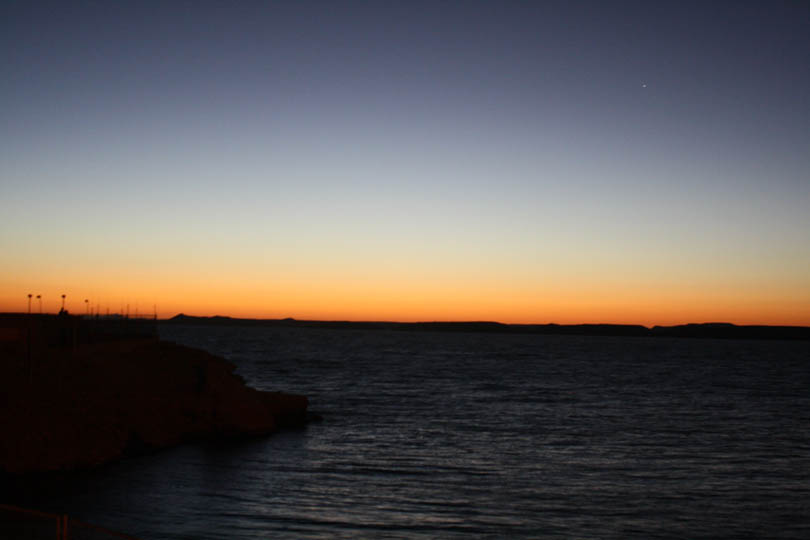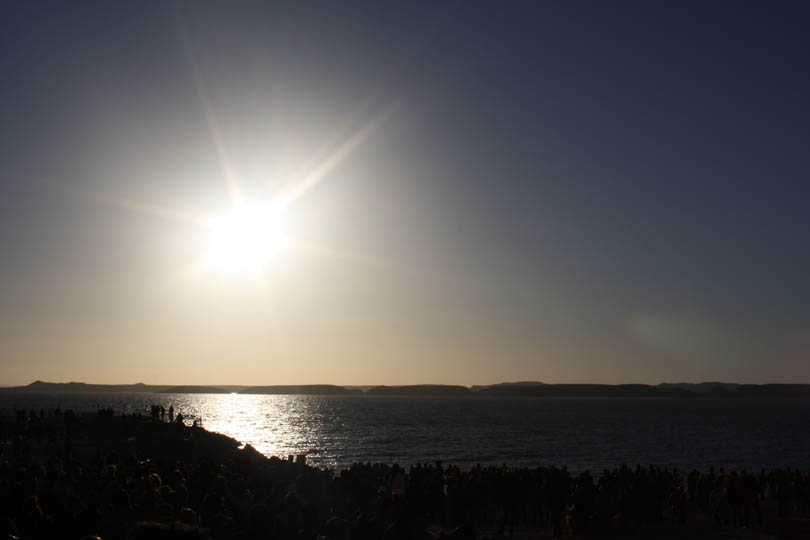 The Mediterranean Sea at Alexandria, Egypt
These photos are from my visit to Alexandria, Egypt in June, 2008. My friend Saqra and I went to a family-oriented beach one beautiful afternoon.  Alexandria is a popular place for families from Cairo to spend vacation time during the summer, due to the fact that the sea air gives it cooler temperatures than Cairo. We stayed to watch the sun set, then went to the theater at the Alexandria Library to watch the show titled "The World Dances with Mahmoud Reda".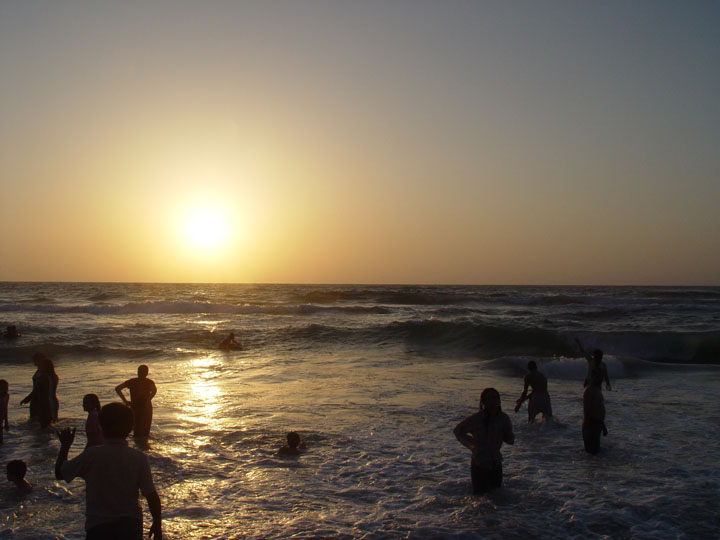 Later in the sunset, as the light begins to fade, the sky remains beautiful and the sea takes on a range of colors.
Sunset in Essaouira, Morocco
Essaouira is a seaside community in Morocco, facing onto the Atlantic Ocean. It offers beautiful views of the ocean, and also of sunsets.  I was there for Funoon Dance Camp, which was organized by my friend Nawarra.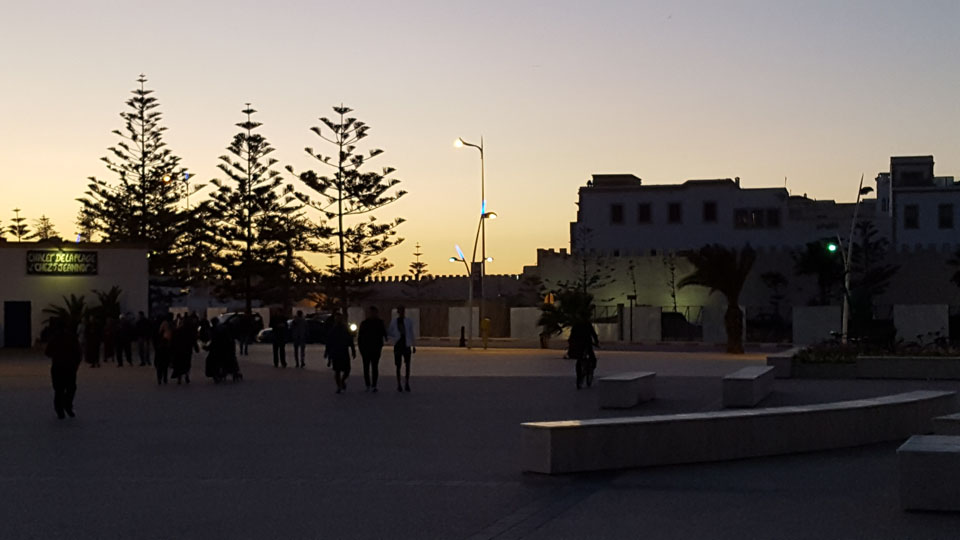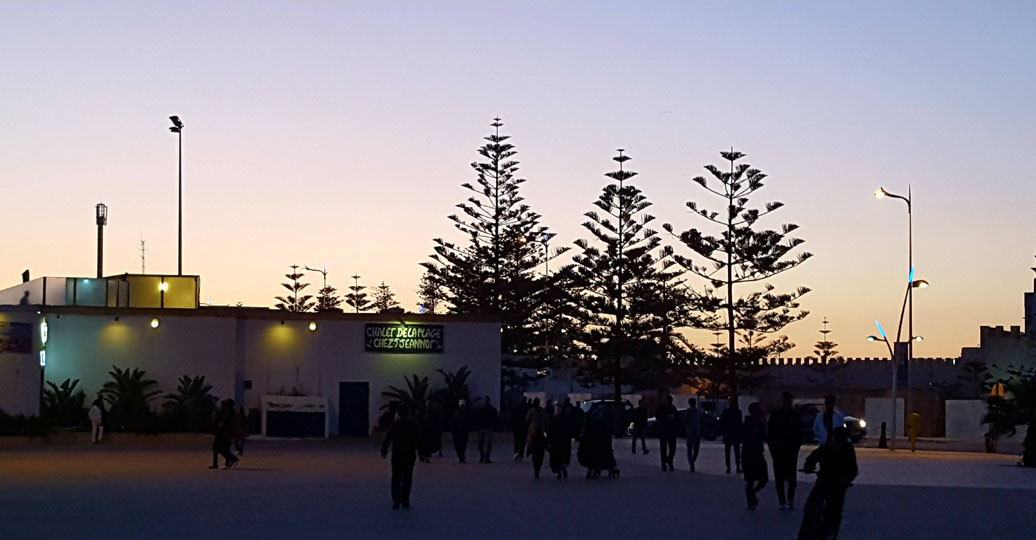 Sunrises in Dakar, Senegal
These two photos were both taken at sunrise (approximately 7:30 a.m.) in November, 2017, from the Pullman Hotel in Dakar, Senegal.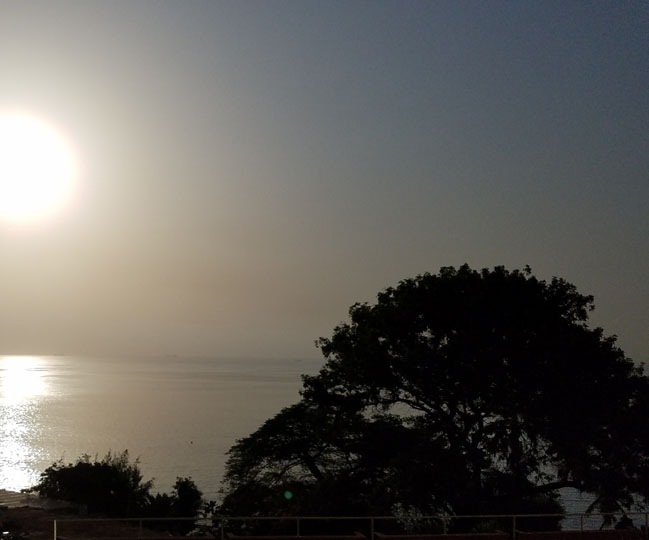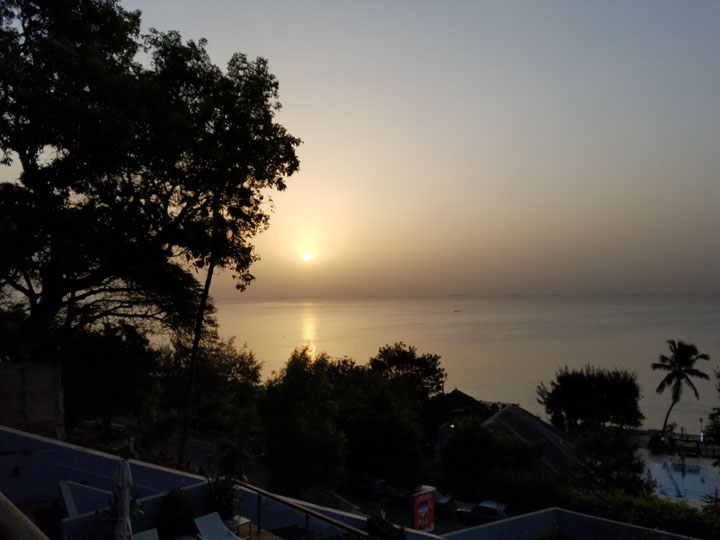 In case you're wondering why I was in Senegal for a month, I was there as part of the IBM Corporate Service Corps.   You can read more about that here: http://roaming-jewel.com/2017/10/17/ibmcsc/
Gratuitous Sunsets in My Own Community!
Although the primary theme of this post is African sunrises and sunsets, I can't resist sharing some beautiful sunsets from my own neighborhood in Iowa City, Iowa.  After all, it's my blog, and I can include non-African sunsets if I want to!
I don't have to travel far to see beautiful sunsets.  These two photos were taken from my front door, looking across the street at my neighbors' houses.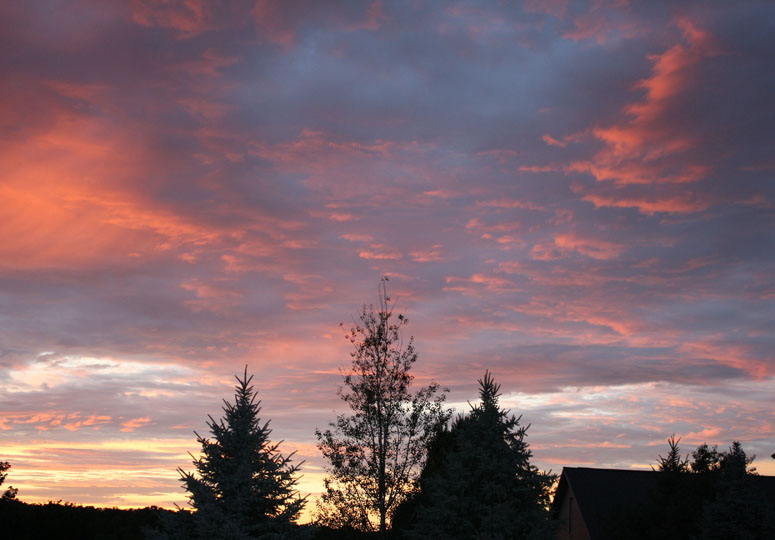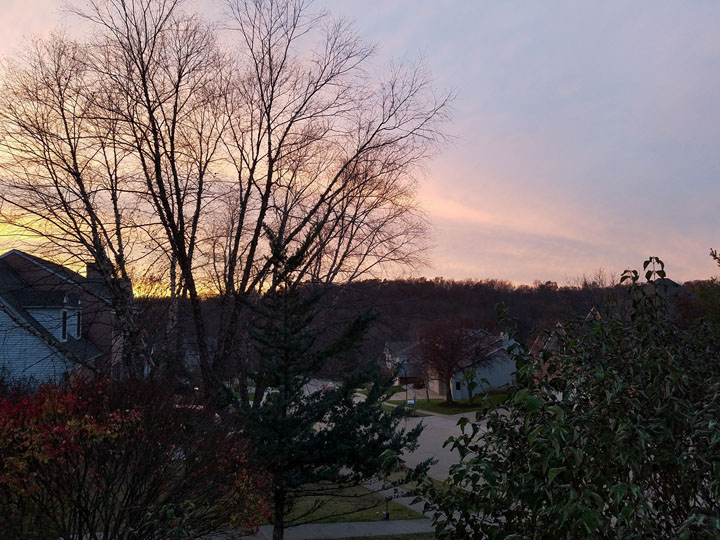 And this photo was taken about a half hour's drive from our house, at Coralville Lake.