In October 2018, I did something I'd wanted to do my whole life: I went on a Caribbean cruise!  One of my friends invited me to join her and share a stateroom with her, and I jumped at the chance!
We booked our trip through Susan Strong of Sanborn's Travel in Corpus Christie.  Susan was a pleasure to do business with, and I would gladly recommend her to others.  She also came with us on this cruise, and I enjoyed the opportunity to get to know her a bit.
This was a one-week adventure, with three stops and shore excursions. Our cruise ship held about 6,000 people:  4,000 were passengers, and 2,000 were staff. It's amazing to think of the ship as holding more than 4 times as many people as there were in the rural community where I grew up!
On this trip, I was able to do the following things that have been on my bucket list for most of my life:
Go on a Caribbean cruise
Swim with dolphins
Visit Mayan ruins
Before the cruise, I was very frustrated with Royal Caribbean because of the many struggles I had dealing with their buggy web site. Royal Caribbean's telephone support people were polite, but would put me on hold for 20 minutes at a time, only to come back saying they were unable to solve the problem.  Fortunately, once I boarded the cruise, things went smoothly, and I was able to have a great time with my friends!
Exploring Liberty of the Seas
Our ship for this cruise was called Liberty of the Seas, and it was operated by Royal Caribbean Cruise Lines.
This floating city featured a large informal dining room with buffet that was open all day, several sit-down dining rooms, bars, shops, swimming pools, hot tubs, a fitness center, a spa, and more.  It featured a variety of entertainment on board, including bands playing music for dancing, movies, game shows, and other acts.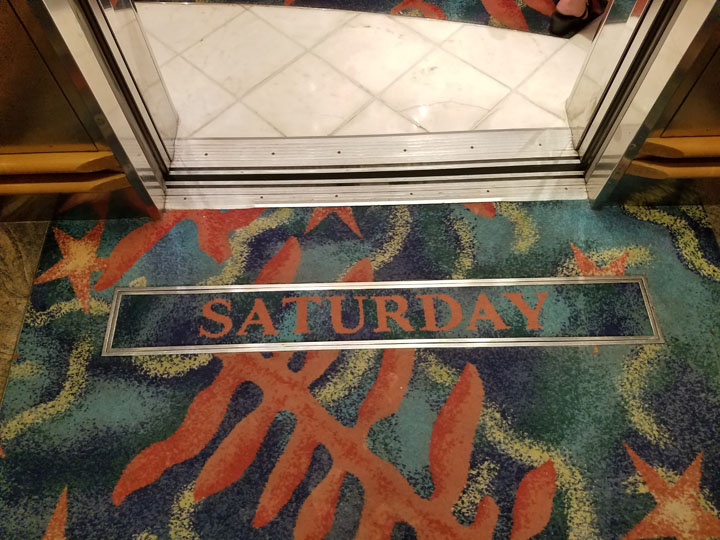 Each day, the carpets on the floors of the elevators on the ship told us what day of the week it was. I found it somewhat fascinating to think there are people whose job it was to change the elevator sign every day.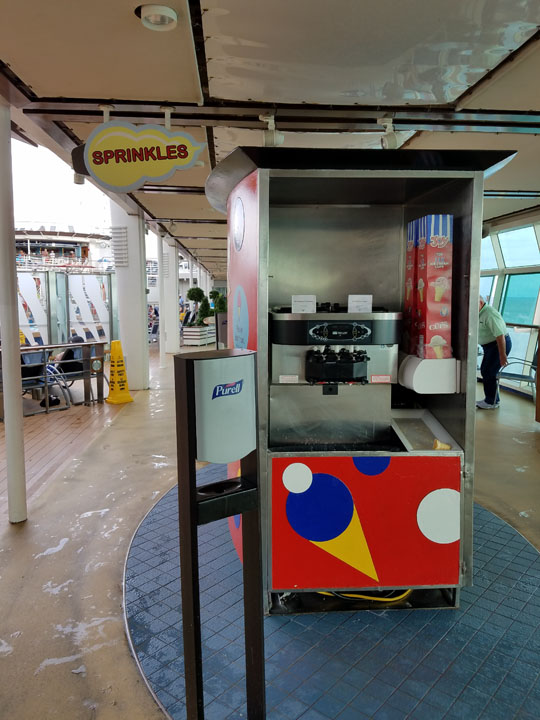 On the top deck, there were two swimming pools: one for children, and one for adults.  The children's pool also featured a water slide.  I kept intending to try it out, but somehow my time filled up with other activities and I didn't get to it.
Near the children's pool is a dispenser of soft serve ice cream (shown above) called Sprinkles.  The ice cream cones are free, and I enjoyed several of them during the cruise!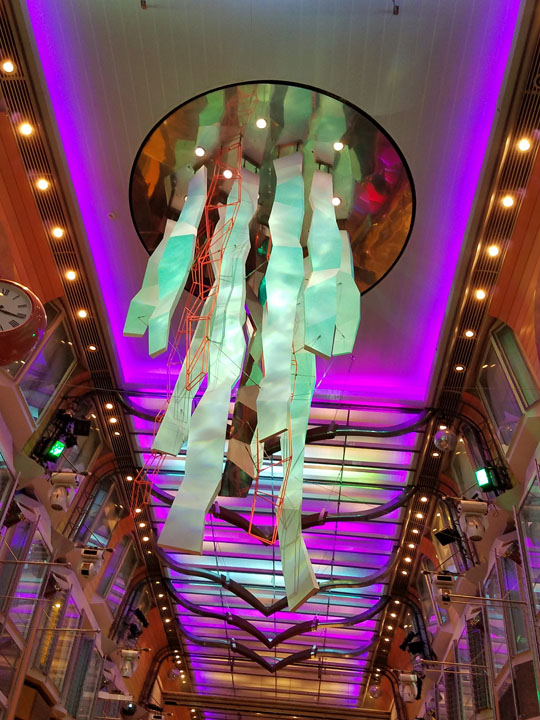 The promenade deck was the level that featured many shops, bars, and restaurants.  During the week of the cruise, a number of events were held there, including a Halloween party for adults.  I particularly enjoyed the jellyfish sculpture that hung from the ceiling!
I enjoyed several treatments at the spa on board the ship, including three massages, a salt scrub, and a facial.  Word soon got out in our group that I was doing this, and the final night of the cruise our organizer Susan gave me a certificate proclaiming me "the Spa Queen"!
The Views
There were many gorgeous views to enjoy while on board the ship.  I found it very peaceful to stand at the side and look out over the intense blue of water and sky.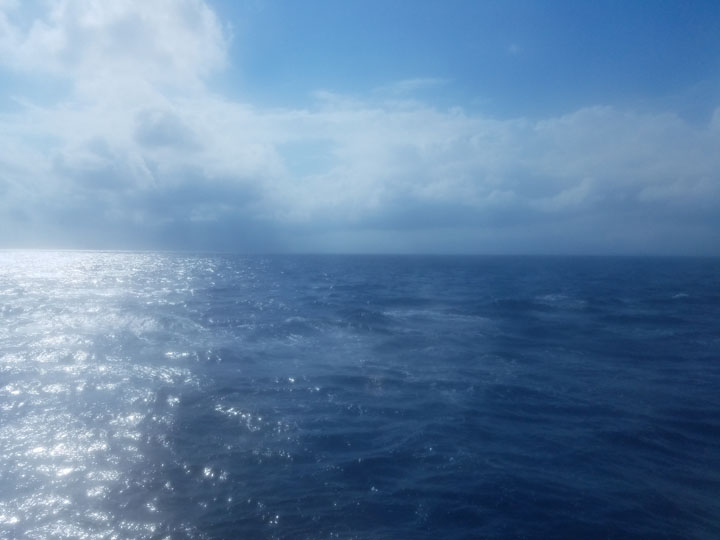 Our first two days of cruising, we were out in the open water of the Gulf of Mexico.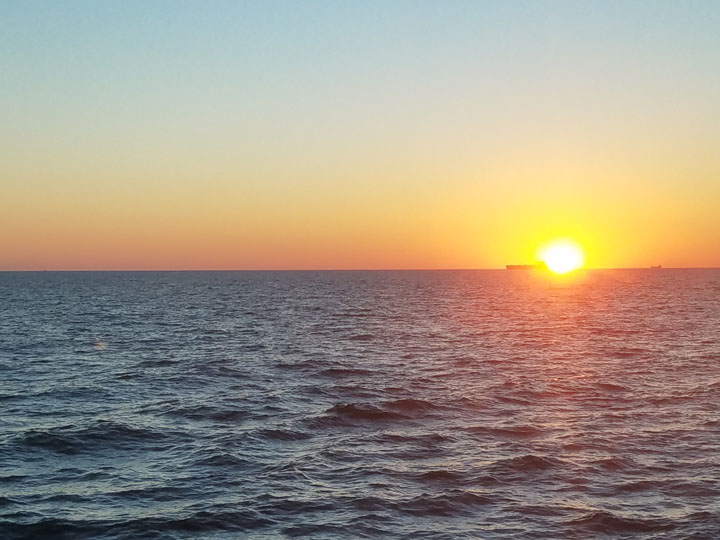 We saw several beautiful sunsets during the cruise.  This photo shows the one that greeted us our first evening on board.
The Shore Excursions
The ship made 3 stops during the week:  Roatan, Honduras; Costa Maya, Mexico, and Cozumel, Mexico.  We had the option of either purchasing an excursion package, going into town to shop and explore, or staying on the ship and enjoying the many facilities it offered.
The number of options for each stop was amazing. It was so hard to choose what to do!
Closing Thoughts
I enjoyed the cruise very much, and would going on another in the future, especially if I had a friend to go with.  Although Royal Caribbean's online check-in process was extremely cumbersome due to a poorly designed web site, once I was on board the ship I was able to relax and enjoy the cruise.  I took over 500 pictures throughout the week.
As I make additional posts about the cruise, you'll be able to find them at this link:
https://roaming-jewel.com/caribbean/