When traveling, I enjoy sampling local food and drink.  Egypt has a few beverages that I always try to make a point of enjoying during my visits.  Some of these are available in the United States, but many people aren't aware of them.
Yansoun (Anise Tea)
Yansoun (pronounced yan-SOON) is a tea made from anise seeds, served hot.  I never eat anise-flavored food when I'm home in the U.S., but when I go to Egypt I frequently order yansoun with my meals.  The higher-end hotels and restaurants don't offer it, because they associate it with the lower classes.  But it should be easy to find in cafes, koshary restaurants, and other Egyptian "comfort food" places.
My Egyptian friends have told me that it's common for singers to sip yansoun before performing, and even to keep a cup on stage with them, because it soothes the throat and eases any hoarseness.  I find that I like drinking it in the evening, because it helps me sleep.
Restaurants typically serve yansoun with a bit of sugar on the side, but I find I like the flavor of the tea just fine even without the sugar.
Karkaday (Hibiscus Tea)
Karkaday is made from the dried petals of hibiscus flowers, and is rich in vitamin A, vitamin C, and iron. On a hot day, I enjoy drinking it as an iced tea, but near bedtime I like to drink it hot.  Most cafes and restaurants that I've been to in Egypt offer karkaday both hot and as an iced tea. It's a beautiful red color. Restaurants often serve it with sugar to add, but I personally like drinking it without.
Mango Juice
In North America, it's possible to order mango juice at Indian restaurants, but in Egypt it's available at almost every place that offers beverages. Mango juice is reasonably safe to drink because mangos are a fruit that requires peeling.  The vivid orange color looks very appetizing, and mangos are rich in vitamin C, vitamin A, folate, and vitamin B.  I always ask for mine to be served without ice, since ice is normally made from tap water and may contain bacteria.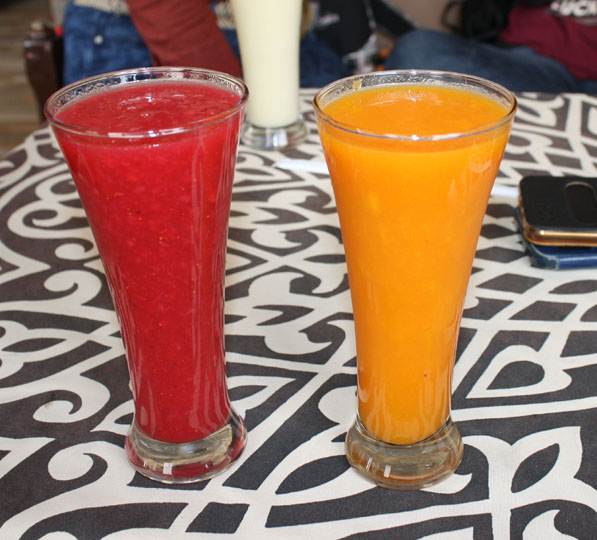 Asir Farola (Strawberry Juice)
This consists of pureed strawberries, perhaps with a small amount of water added.  The vibrant red color looks beautiful in the glass!  I always try to drink some while in Egypt, but I recommend exercising some caution – some restaurants don't adequately wash the strawberries before making the beverage. Even those that wash the strawberries may use tap water to do it, so there is some risk of bacteria.  I enjoy strawberry juice very much, and am happy to drink it despite the risks. The vitamin C content will give your immune system a boost.
Dom (Sometimes Spelled Doum)
The dom palm tree grows primarily in southern Egypt and Sudan. Its botanical name is hyphaene thebaica.  Dom fruits have been found in some tombs from ancient Egypt.

I think of this fruit and the beverage made from it particularly as being associated with Nubian culture.  The fist-sized brown nuts are soaked, then pureed with sugar and water to make a delicious beverage.  I've also seen dom nuts used on strings of beads for decorating doorways in homes. The leaves of the palm tree are often used in making baskets.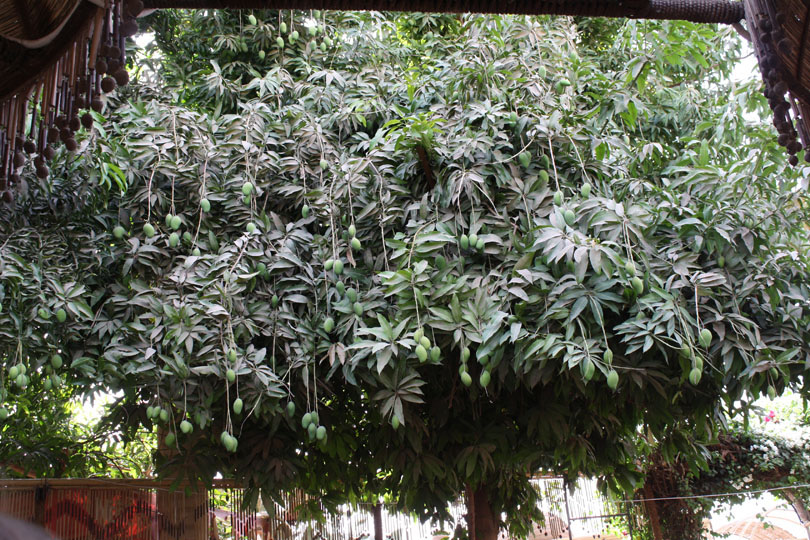 This photo shows a dom tree whose fruit hasn't ripened yet. The fruit will turn brown when ripe.
I usually drink dom when I go to Aswan.  It's a little sweet, but not too much.  Some places in Luxor and Kom Ombo will also serve it, but I don't think I've ever found it in Cairo.
Sahlab
Sahlab is a thickened sweet drink, served hot.  Historically, sahlab was made from orchid roots, but today you're more likely to find it made with cornstarch, arrowroot, or other thickener.  The ingredients include milk, the thickener, and sugar. It is served garnished with chopped pistachios and cinnamon.  I like to use it as a dessert drink.
Sugar Cane Juice
Sugar cane is one of the crops that many Egyptian farmers grow.  If riding in a bus or train from Luxor to Aswan, you're likely to see many fields of sugar cane along the way.  So it's only natural that sugar cane juice would be readily available throughout Egypt. There are small storefronts in many neighborhoods of Cairo where you can watch the vendor squeeze the sap out of the sugar cane for you, while you wait.
The juice is a light green color, and of course it tastes very sweet.  It is usually served at room temperature.  I always try to enjoy at least one glass of it when I'm visiting Egypt.
One time when a friend and I were riding in a taxi in Cairo, the driver pulled off to the side of the street before arriving at our destination.  He got out of the car, and went up to one of these sugar cane storefronts in a residential neighborhood.  It seemed odd at first that a taxi would stop en route to its destination while the passengers were still inside.  When I realized the driver was heading for the sugar cane juice vendor, I thought, "Well, I suppose it's only fair that taxi drivers might get thirsty while working."  We waited what seemed like a much longer time than I would have expected for him to get his glass of asir (juice). To our surprise, when he returned to the cab, he had not only a paper cup of it for himself, but also a cup for each of us!  We so much appreciated his kindness!
Erk Sous
I'm kind of amazed that in all my trips to Egypt, I haven't yet tried erk sous. Maybe I'll have to try some next time.  It is a sweet licorice syrup made from anise.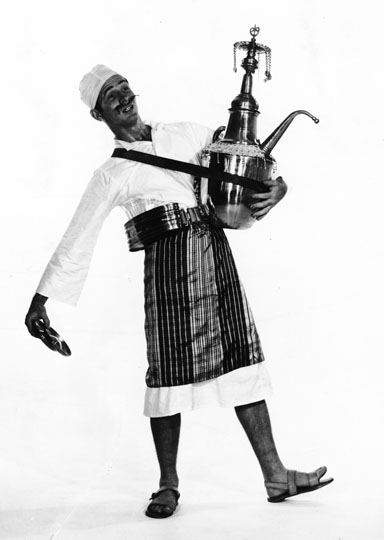 Erk sous is typically sold by street vendors carrying an urn on their backs, similar to the one in this photo.  The photo shows legendary dancer/choreographer Mahmoud Reda wearing an erk sous vendor costume for one of the skits performed by Reda Troupe. The very first Reda Troupe show in 1959 featured such a character in one of its skits.
Lemon Juice, With or Without Mint
In Egypt, the lemon juice is delicious, made from fully ripened lemons, with some water and sugar added.  I like ordering a variation of it, which is lemon juice with mint, as shown in the photo.  Both are refreshing.
Beer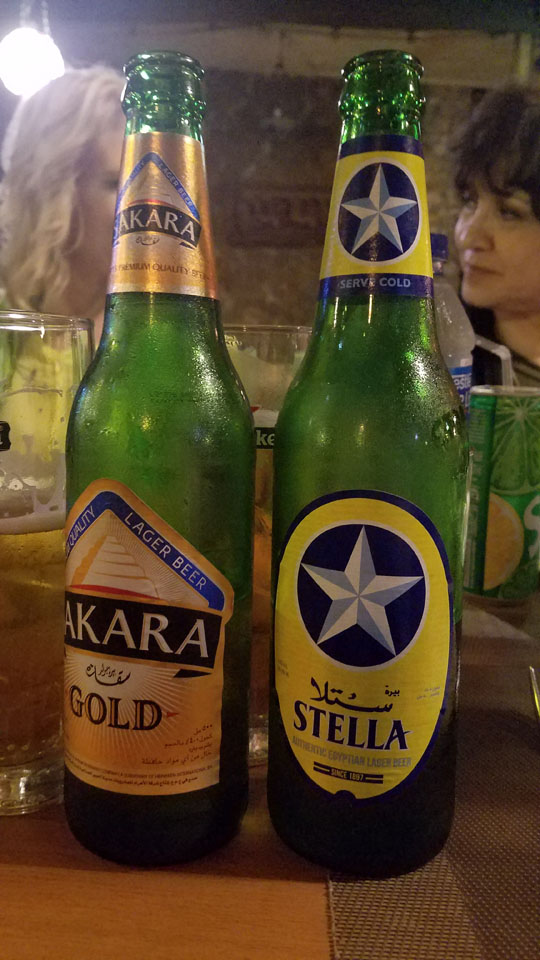 Many restaurants in Egypt don't serve alcoholic beverages, which makes sense when you consider the fact that it's a Muslim country.  In Egypt, the craft of brewing beer dates back to Pharaonic times.  The religious prohibition came later, with the Arab conquest and conversion to Islam.
If you're a connoisseur of craft beers, leave your beer-tasting mind set at home when you visit Egypt.   It's not the place to explore IPA's, porters, stouts, red ales, bocks, or other malty brews.  That said, places that do a large amount of business with foreigners often offer alcoholic beverages, and there are some local beers you can try.
Today, the two dominant brands of beer you're likely to find in Egypt are Stella (no relationship to Stella Artois) and Sakara Gold.  Both are lagers, and both are manufactured by Al Ahram Beverages Company.  Other brand names exist in Egypt, but they don't have the market share that these two do.