Tributes to the legendary singer Oum Kalthoum can be found throughout Cairo.  My three favorites, which I'll highlight in this post, are:
The Oum Kalthoum Museum
The Oum Kalthoum Café along Muez Street
The Oum Kalthoum Hotel
Who Was Oum Kalthoum and Why Does She Matter?
Oum Kalthoum was a beloved singer who became known as "The Voice of Egypt", "The Lady", the "Star of the East", and "The Fourth Pyramid". When she died in 1975, over 4 million Egyptians lined the streets for her funeral cortege. Today, Oum Kalthoum's music continues to be part of the soundtrack of modern Egyptian life, with radio and satellite television stations who play solely her music.
Oum Kalthoum continues to inspire listeners all over the world. Belly dancers around the world use her music for their performances. In 1978, three years after she passed, Bob Dylan told Playboy Magazine in an interview, "She's dead now but not forgotten. She's great. She really is. Really great."  My local Egyptian restaurant in Coralville, Iowa  plays her music via satellite television for ambience. Many taxi drivers in Egypt tune their radios to stations that play her music. She was truly a great talent, and remains an important voice in world music.
Visiting the Oum Kalthoum Museum
The Oum Kalthoum Museum on Rhoda Island offers a glimpse into the life of this great artist.
As you enter the museum, it's possible to purchase a permit for using a camera to take photos. However, flash is forbidden.  Photos must use available light. Fortunately, my 35mm camera and my cell phone camera both work very well with available light.
There is a 15-minute documentary video that visitors to the museum can watch to learn a bit about Oum Kalthoum, her music, and why she was so beloved by the Egyptian people.  I highly recommend taking the time to watch it, because it really helps put her life in perspective.
The first exhibit inside the entry showcases some of the dresses that Oum Kalthoum wore during her performances.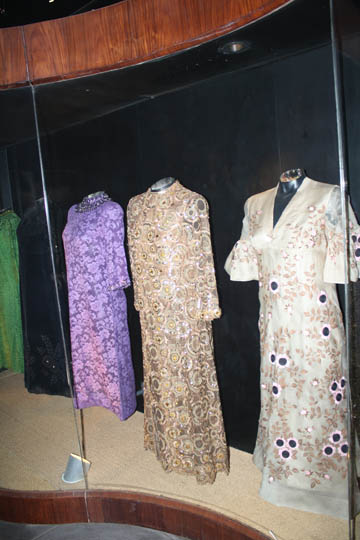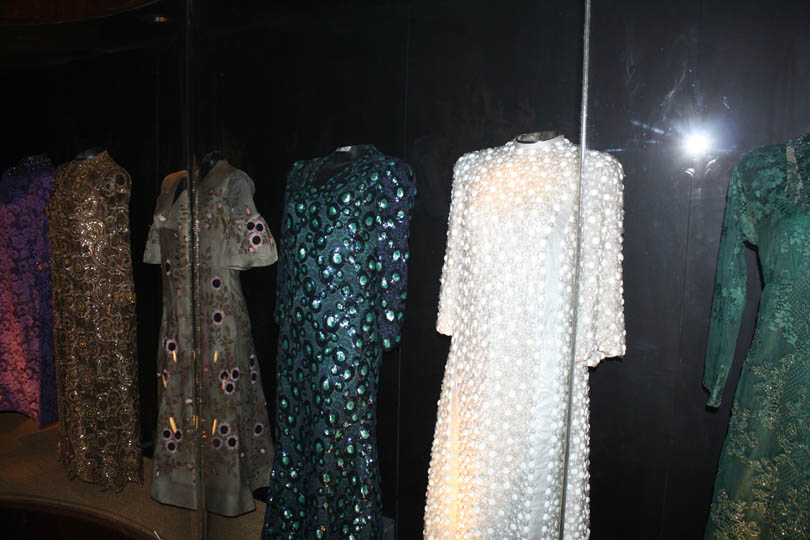 Oum Kalthoum's iconic diamond-encrusted crescent brooch is displayed in the museum.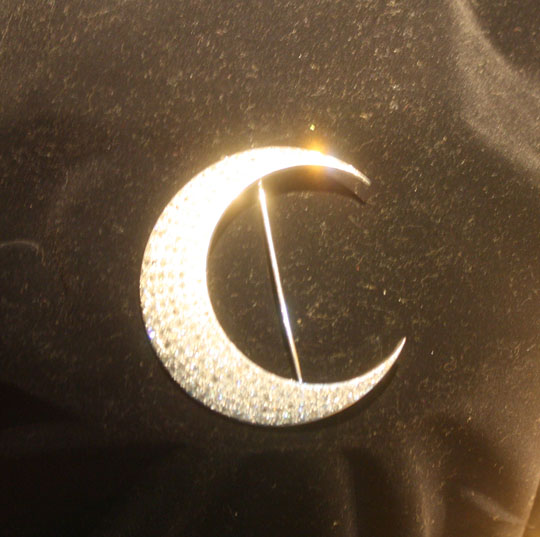 Several photo collages show scenes from Oum Kalthoum's life.  Each one shows photos from certain eras. My favorite is the collage of her later years, which centers around a photo of Oum Kalthoum with Badia Masabni, a legendary nightclub owner. Oum Kalthoum is the one wearing the dark glasses. In her later years, she always wore dark glasses because a thyroid condition caused her to develop bulging eyes.  This condition can always cause dryness and sensitivity to light.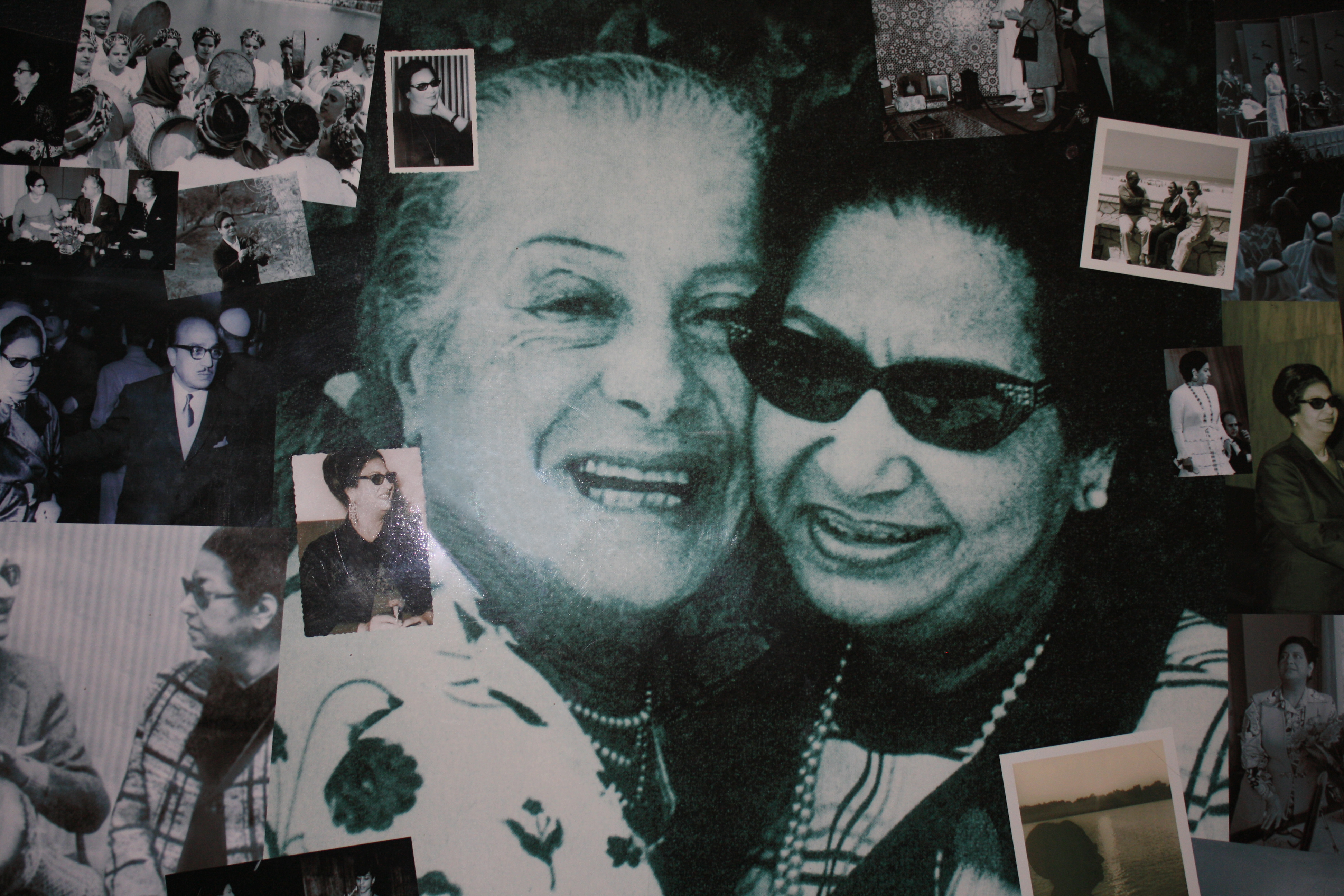 Several photos of Oum Kalthoum's family life appear in the museum.  This one shows her with her brother.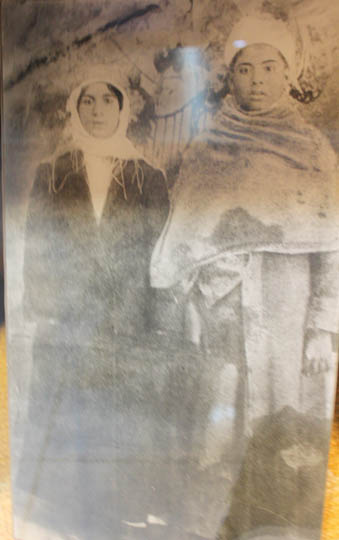 A variety of Oum Kalthoum's personal possessions are on display.  For example, one display cabinet shows some of her shoes and handbags.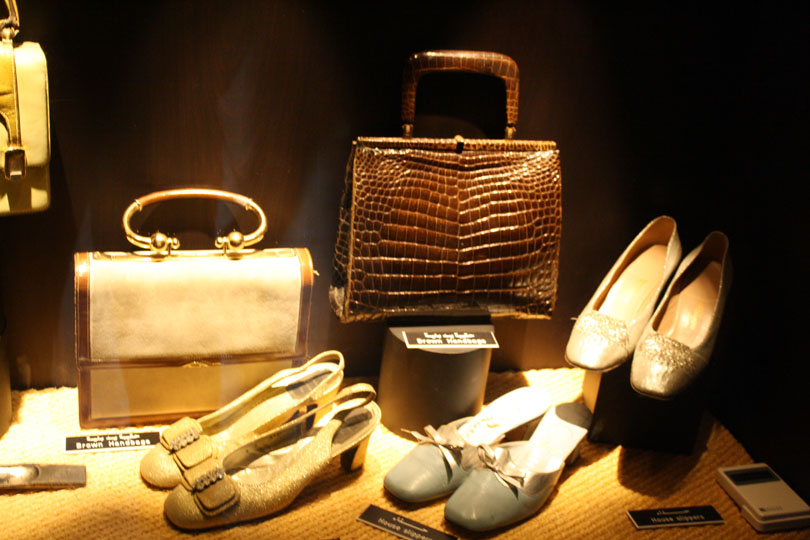 Several pairs of her diamond-studded glasses are displayed: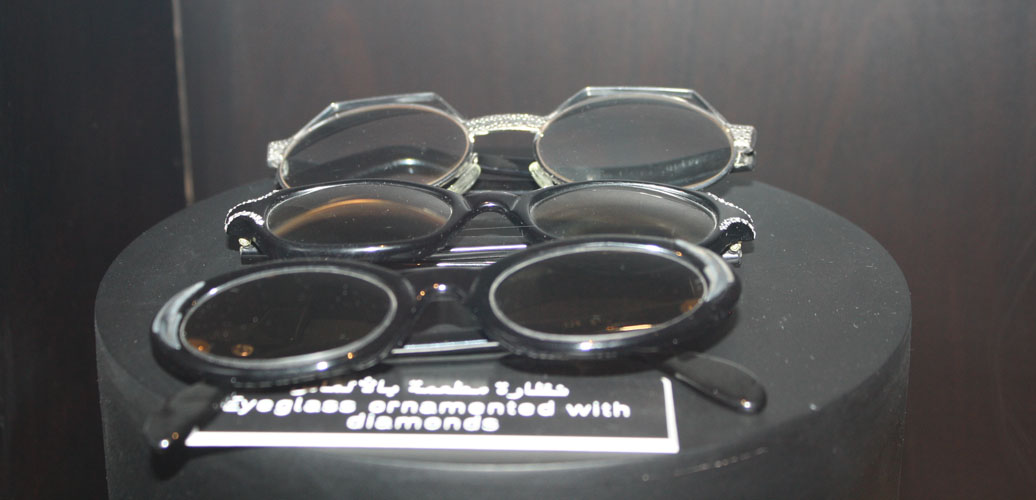 The museum also features original vinyl records, sheet music, awards that Oum Kalthoum received in her lifetime, and many more mementos of her life.  It's an inspirational way to spend an hour or two, soaking up the nostalgia.
When I visit, I also enjoy walking around the grounds a bit.  Rhoda Island's landscaping is very inviting, and the island offers beautiful views of the Nile River.
Just outside the museum, an abstract statue of Oum Kalthoum captures just enough of her iconic imagery to be recognizable. On her chest is the crescent-shaped diamond brooch whose photo appeared above, and in her hand she holds a handkerchief.  She always held a handkerchief when performing.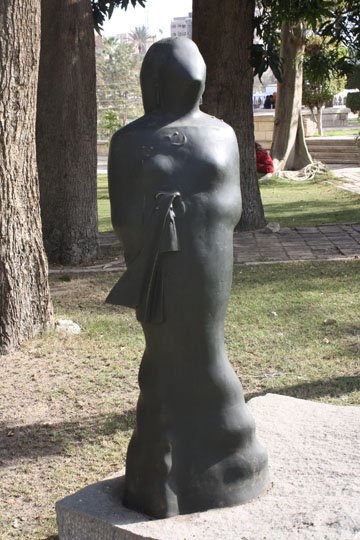 A second sculpture outside of the museum shows a musical staff with notes. I'm very fond of this one.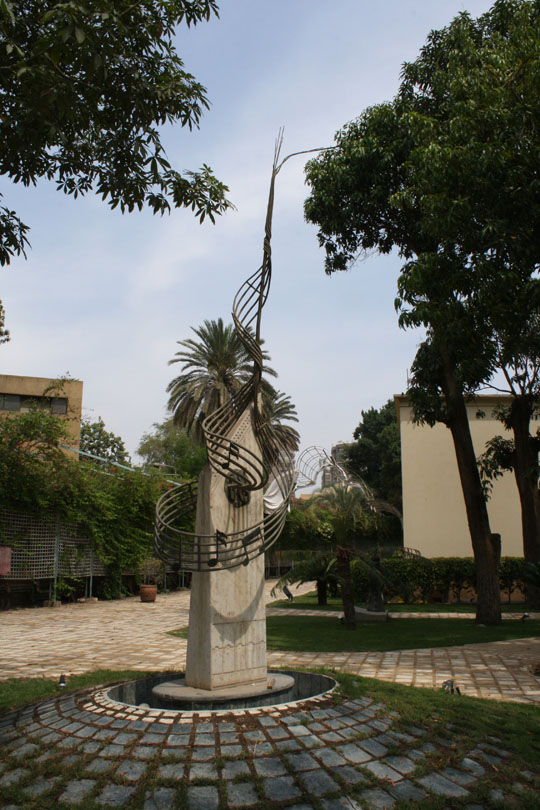 The museum lies within easy walking distance of the historic Nilometer, which is also worth visiting while there.
Sipping Tea at the Oum Kalthoum Café
Just off of Moez Street, near Khan al-Khalili and Bab al-Futuh, the Oum Kalthoum Café offers an opportunity to sit for a while and enjoy the ambience of Cairo.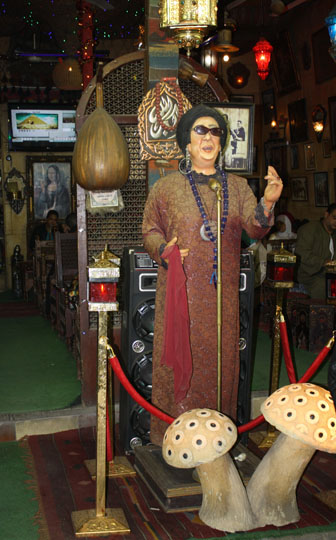 A statue of Oum Kalthoum posing with mushrooms greets you at the entrance of the cafe.  Inside, you can listen to her music continuously as you sip your tea and watch the the world go by.
Staying at the Oum Kalthoum Hotel
When Oum Kalthoum was alive, she lived in a villa along the Nile on Zamalek Island. After her death, her property was sold, the villa razed, and a hotel built on the land.  The beautiful hotel that stands there today is designed to honor her life's work.
A statue of Oum Kalthoum greeted our tour bus as we approached the hotel.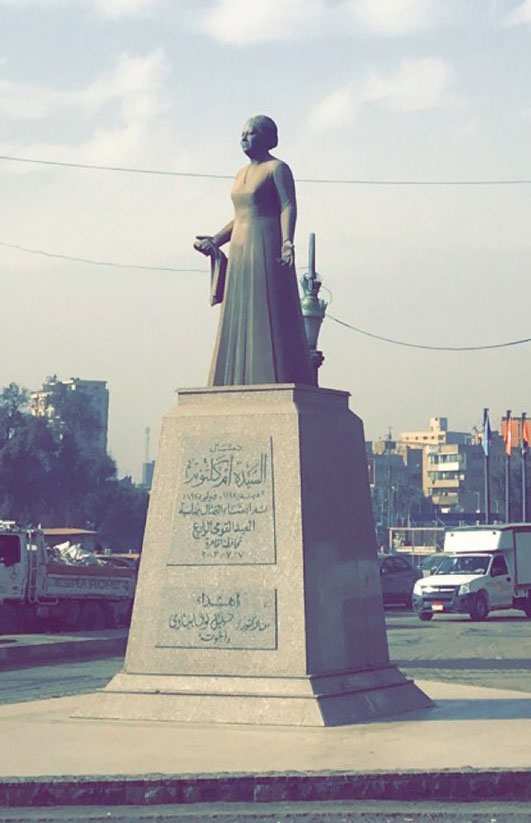 Throughout the lobby, photos of Oum Kalthoum evoke memories of the singer as the sound system continuously plays her music.  I enjoy sitting in the lobby and simply listening.  The furniture consists of historic pieces from the mid 20th century, aligning with the period when Oum Kalthoum rose to fame.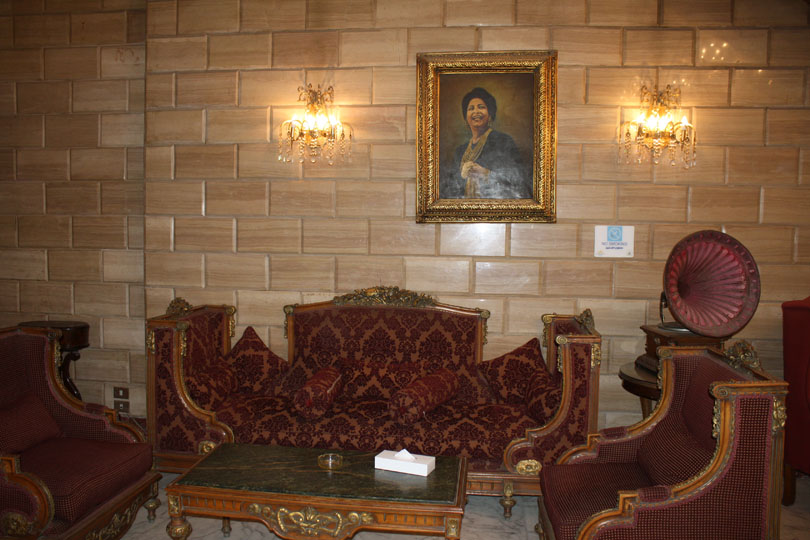 The hallways of the first two floors feature furniture that once belonged to Oum Kalthoum, including mirrors in elaborate wood frames, elegant upholstered chairs, and tables.
When I stayed at the hotel in April 2018, I was fortunate to receive a room with a Nile view on the second floor, where I could walk past these mementos every day. Each room of the hotel, in addition to having a room number, also bears the name of one of her songs. I hope to be assigned the room Leylet Hob the next time I stay there!