I was excited when I saw that one of the shore excursions that our cruise ship offered on my 2018 Caribbean cruise was "Dolphin Encounter and Snorkeling".  Swimming with dolphins has been on my wish list for many, many years, and I was so happy to see there was finally an opportunity! For $154 U.S. dollars, the tour offered:
"Experience what it would be like to be a part of the pod in the wild as you interact with curious and friendly dolphins on this unique dolphin swim and snorkel tour."
Logistics
When we got off the cruise ship, we were met by a representative from Anthony's Key Resort, which was the local tour operator that was offering this excursion.  They took us via bus to the cove where the dolphins lived.  There were changing rooms for us to change into our swimsuits, and lockers we could use to store our belongings until we were done.  We each received a set of swim fins and snorkel mask, and then they led us down to the water. They said we could bring cameras and phones to take photos.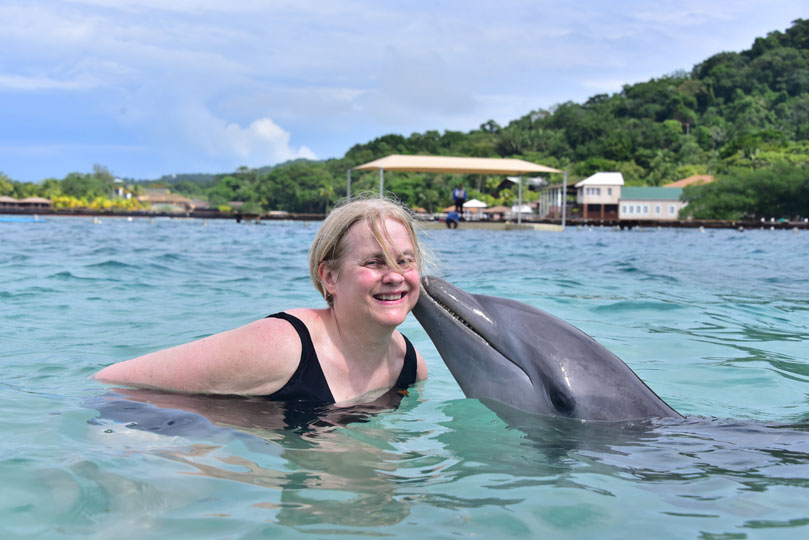 Meeting Callie
The trainers separated us into two groups.  Each group would work with one trainer and one dolphin.  Our trainer instructed us to wade into waist-level water, standing side-by-side.  He called over a dolphin named Callie.  He used whistles and hand signals to give requests to Callie.  After she performed each task, he rewarded her with fish. Some of the things Callie did for us included:
Swimming past our line so we could pet her as she passed.  Her skin was very soft.
Swimming with her belly pointing up to the sky.
Jumping up out of the water.
Going to look for objects buried in the sand, then bringing them back to us.  The trainer told us that dolphins have excellent built-in sonar, and they can use it to identify where items are buried.
Flapping her tail on the water to make a big splash.
Going for a "tail walk", which meant rearing up vertically out of the water, and then "walking" across the surface of the water with her tail.  This was my favorite part!
Posing for photos with each of us in turn.
The following video shows Callie going for her "tail walk".
For part of the above activities, we had an opportunity to use our phones and cameras to take photos.  For the photos where we posed with Callie, a professional photographer snapped photos of each of us, and naturally we were given an opportunity to purchase those at the end of the tour.  As an individual (i.e., not part of a couple or family), I was able to purchase a package with all of the photos with me in them for $45.
The above "dolphin encounter" activity took about 30 minutes.
Snorkeling
After the "dolphin encounter" part of our tour, we set our phones and cameras aside and put on the snorkeling gear.  We swam out into the cove.  As we swam, the dolphins would come along to swim with us.  They often chased each other, passing underneath us close enough to touch.  Sometimes they surfaced and swam next to us.
This video shows Callie and Allie leaping together during the initial 30-minute dolphin encounter:
The bottom of the cove was not as spectacular as what I saw when snorkeling at Maui.  The fish were not brightly colored, they were simply a silvery color.  There were some coral formations, rocks, and seaweed to look at, but the colors tended to be neutrals.  I was happy with it, though, because the dolphins were so much fun!
This too lasted about 30 minutes.  It felt like the right length of time. At the end, the staff called us to the shore, collected our snorkeling equipment from us, loaded us onto the bus, and took us back to our cruise ship.  I went to bed that night happy, dreaming of dolphins!
About the Dolphins' Lifestyle
Some people have asked me whether the dolphins seemed to be captives or abused. Based on watching them, I got the impression the dolphins are comfortable in their habitat, and staying there by choice.
According to the trainer we worked with, the dolphins who live in the cove were born there.  They consider it their home, just as your pet dog would consider your house his/her home.  The dolphin behavior I witnessed seemed consistent with that. The dolphins were not restrained, and had enough freedom in a large area that they could have opted to swim away from us and stay away.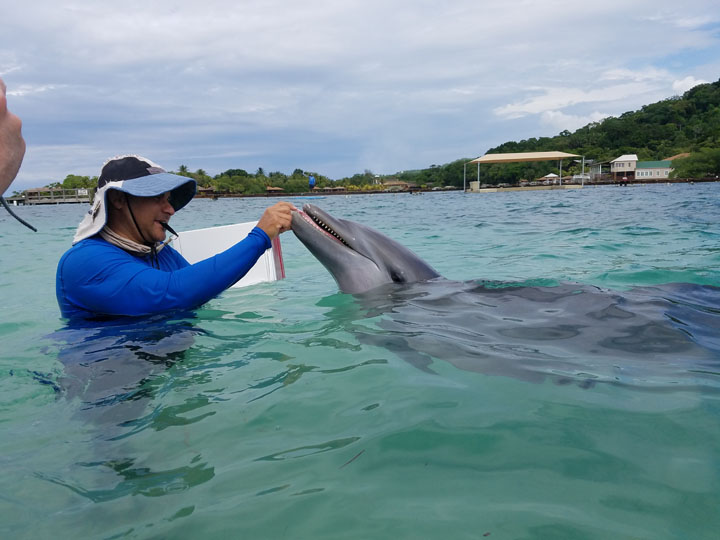 The cove at Anthony's Key is fenced off from the open Gulf of Mexico.  At times, the trainers will open the gate to allow the dolphins to play freely in the open water.  The dolphins voluntarily return to their home afterward.  A dog might run joyously around when taken to a dog park, but will choose to return home where his food and his social group live afterward, and the same is true of dolphins.
If I Were Going to Do It Again…
I would take:
Dry clothes to change into after snorkeling.
Swimsuit.  (I'd wait until I get there to put it 0n.)
Something to photograph the dolphins underneath me while snorkeling.  This could include:

Either a zip-top bag on a neck lanyard to put my cell phone inside, or
A waterproof camera.

Sunglasses
Sunscreen, maybe also a hat.
I'm glad I removed my contact lenses before leaving my room.  It's all too easy for water to get into the snorkel mask and wash a contact lens out of the eye.
I did take my prescription eyeglasses, and I wish I would have left them in my locker with my dry clothes when I changed clothes at the cove.  I took the sunglasses off when we got into the water, and they became an extra thing to remember to grab and take with me when it was over.