On my way home from Morocco, the airline itinerary required me to spend an overnight layover in Lisbon, Portugal.  At first, I was frustrated at having to pay for a hotel and have the journey home take so much longer. But then I started thinking about it, and started to view it as a fun opportunity to explore a city I had never been to before.
The day I departed Marrakech for Lisbon got off to a rather painful start, with 2 hours of standing in lines at the Marrakech airport.  The line to check in for the flight, the line to go through passport control, and the line to go through security all added up to that. My back was really hurting from all that standing. It was a relief to collapse into my seat once I boarded the plane.
Upon arrival at the Lisbon airport, there was another hour of standing in line, thanks to passport control and the taxi stand.
When I reached my prepaid hotel, the reception agent told me that plumbing issues had flooded several rooms at the hotel, and therefore they were not able to assign me a room. They had re-booked me into another hotel, at no cost to me, and they provided me with transportation to the new hotel.
There were check-in delays at the replacement hotel while the front desk staff tried to tell me to go back to the original one.  Eventually, the manager appeared, acknowledged that they had agreed to host me, and all was solved.  However, in the process, I endured another 30 minutes of standing around hotel check-in desks.
By the time all this was resolved, I was exhausted.  My back was really hurting, and I was tired. It was only 2:00 in the afternoon, but the only thing I wanted to do was sleep.  A voice in my head said I "should" go out and explore Lisbon, because who knows, I might never again have such an opportunity. A different voice in my head responded that sightseeing is supposed to be fun, and in this case I was in too much physical pain to enjoy it.
I knew I had a 23-hour trek home the next day, crossing an ocean and half a continent, with more grueling hours standing in line at airports, so why not take advantage of a nice hotel room to get some much-needed rest? And that's what I did. I closed the curtains, and crawled into bed. When I woke up 2 hours later feeling better, I knew I'd made the right decision.
I walked across the street to have dinner at a nearby restaurant. I ordered a sea bass entree, which sounded very appealing. I was a bit dismayed when it showed up with the head still on it.  But it smelled delicious, so I tried not to think too much about the head and proceeded to eat the fish, leaving the head behind. It was a simple meal, which is what I needed at the time, and tasty.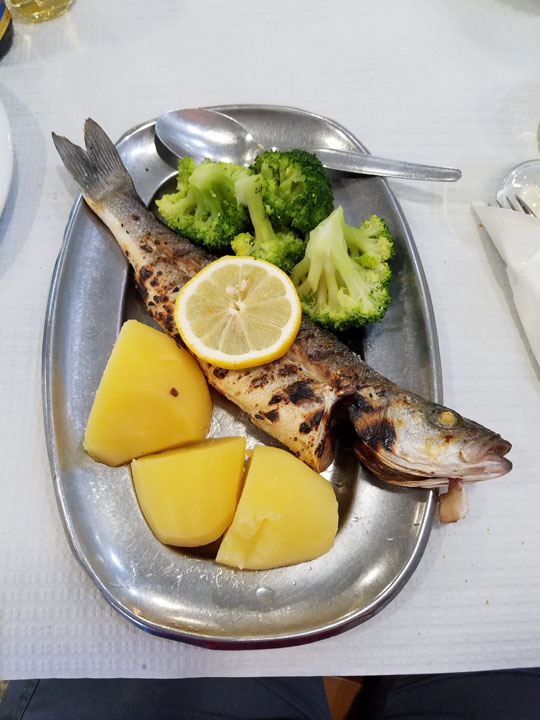 After dinner, I returned to my room, did some reading, and reorganized my packing for the next day's flight home. I made it to bed early, and slept well. Very well.
So, I have been "in" Lisbon, but all I saw was the inside of the airport, two hotels, a restaurant, and the view out of a car window going between these places.  But… I started my 23-hour trip the next day feeling reasonably well rested and pain-free.  For me, it was worth the tradeoff.
Sometimes, when traveling, self-care is more important than sightseeing.