It's not easy traveling from the U.S. to Morocco, especially if you live in an area where the closest airport is NOT a major hub!  I was in transit 26 hours, on 4 different airplanes, with long layovers.  I was exhausted when I finally arrived in Marrakech!  I flew from Cedar Rapids Iowa, to Chicago O'Hare, to Washington DC Dulles, to Lisbon Portugal, to Marrakech Morocco.
When I finally arrived in Marrakech, I bought a local sim card at the airport for my spare phone so I could call home affordably.  It cost me 300 Moroccan dirhams (about $36) for 4 hours of international calls and 10 gigabytes of data. I felt that was a really good price!
A driver from my riad (bed & breakfast) picked me up at the airport. The friendly riad  owner wanted to welcome me, and offered me lovely Moroccan mint tea with petite cookies.  That was nice, but… she was French, and spoke very little English.  I do speak French, but I was  very exhausted from traveling so many hours. Therefore, my brain was mush, and I had trouble carrying on the conversation!  Finally, after finishing my tea and cookies, I fled to my room so I could nap.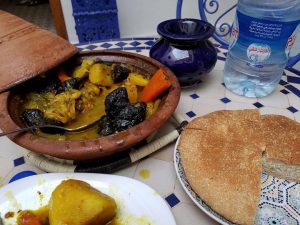 I had arranged to eat supper at the riad, so after a one-hour nap my alarm sounded and I went downstairs to eat.  The meal was delicious! It was chicken tagine, which is a Moroccan stew made with chicken and vegetables (carrot, zucchini, etc.)
After eating, I again retreated to my room and went to bed.  I slept 13 hours.  I guess I needed it!