In my travels to Egypt, I've come to know Nubian people in Luxor, Aswan, and Abu Simbel.  Although they are certainly Egyptians (and identify as such), they are a distinct ethnic group, different from the Bedouins, Amazigh, and other ethnic groups that together create the rich cultural heritage that makes up modern Egypt.
I've heard a Nubian acquaintance named Karim say several times, "Every Nubian home has a crocodile."  What he means by this is that it is traditional for Nubians to display preserved (dried) crocodiles both inside and outside of their homes. I asked another Nubian friend about it, and he verified the statement.
Why Nubians Display Mummified Crocodiles
I asked my Nubian friend Gamal Latif, the artist who painted the image at the top of this blog post, about this custom.  His house in Luxor, Egypt doesn't display a crocodile. He said he used to have one that his family obtained in 1933, but over the years it fell apart. He said that although he could probably purchase one, the point is to catch the crocodile yourself as a sign of your courage and strength.
According to Gamal, there are several reasons for the Nubian practice of crocodile hunting, mummification, and suspension above the door. It is thought to protect the home from the evil eye (envy), and it provides evidence of the strength and courage of the owner of the house.  Also, there's a belief it will frighten away crocodiles from approaching the house.
In Nubia, crocodiles are not the only animals displayed on houses. Ravens are killed and suspended on the roof of the house to scare other crows and ravens away.  Ravens can harm small chickens, chicken eggs, and pigeons, which is why people don't want them near their homes.  Nubians also kill scorpions and hung them on the wall, also as a way to deter scorpions from coming near their homes.
On the Outside of Houses
Tourists can visit the Nubian community named Gharb Soheil, which is across the Nile River from Aswan, Egypt. There are two ways to approach it, either by bus or by a boat.  If approaching via bus, it's likely you'll see a building with the words "Crocodile House" painted on the outside, and a preserved crocodile mounted on the exterior wall above one of the doors (on the left of this photo).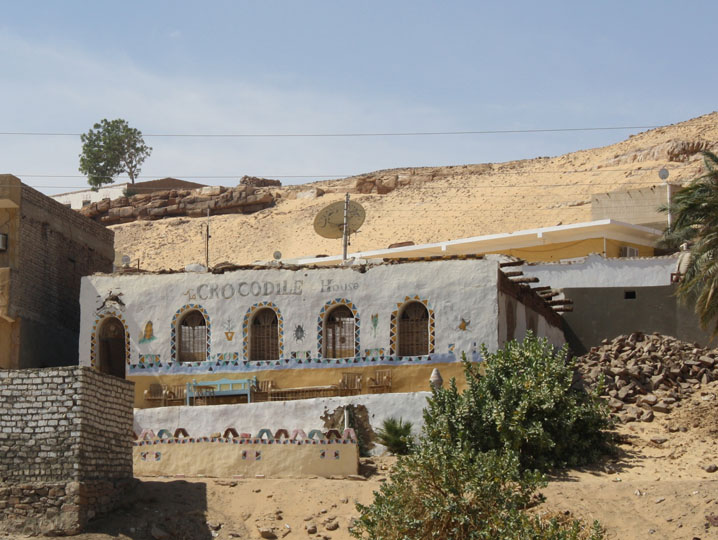 This isn't the only building I've seen with a crocodile mounted in front of an entrance.  Here's another I saw as we drove past: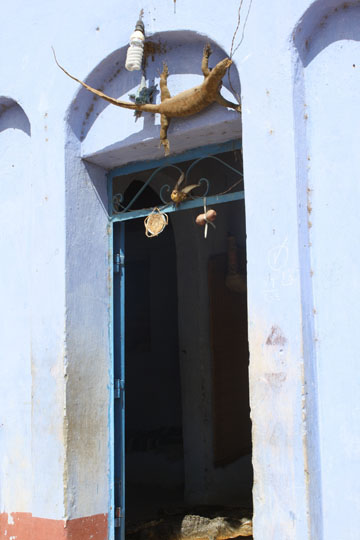 On the Inside
It is also common to find crocodiles mounted on the walls indoors, such as this Nubian home.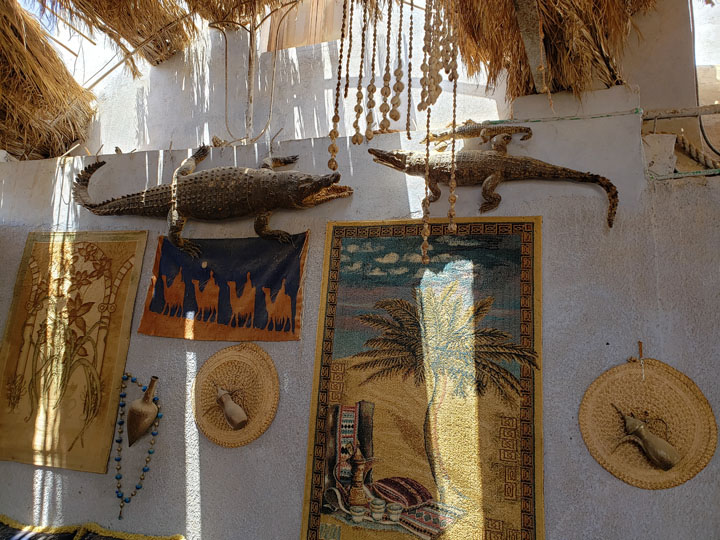 Below is another view of a Nubian home with a crocodile over a door: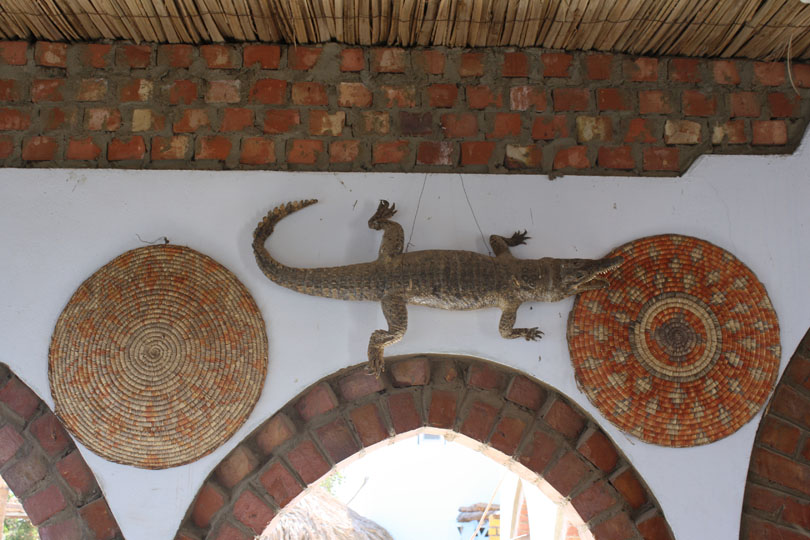 One of the Nubian homes I have visited at Gharb Soheil also displays three crocodile skulls outdoors in the yard. Can you find them all?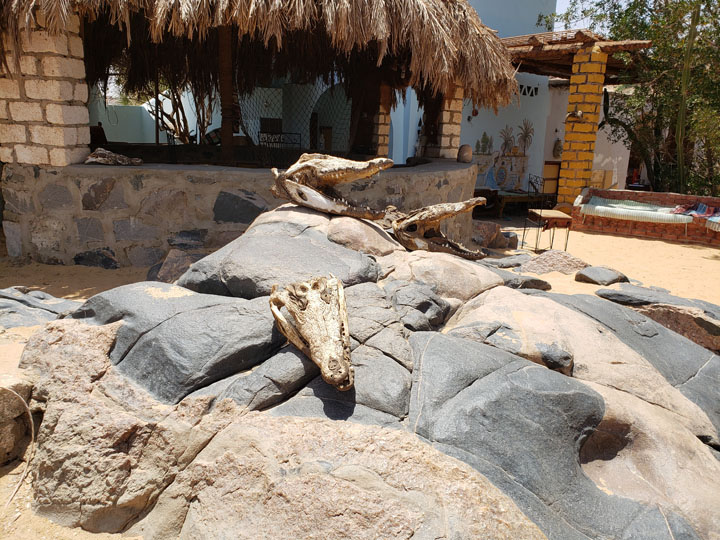 Living Crocodiles
There are a number of Nubian homes in Gharb Soheil who make part of their income by allowing tour groups to visit and look around.  They will often spend some time talking about Nubian culture, and answering questions.  Some of these keep live crocodiles on hand in a terrarium to show the tourists: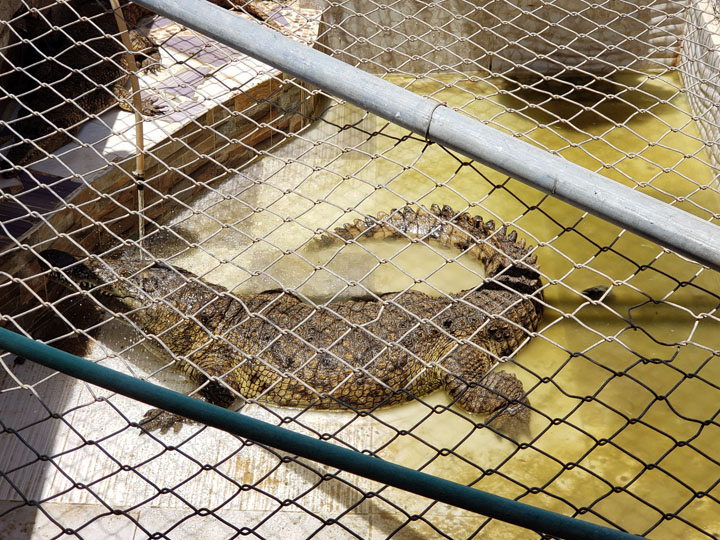 Once a crocodile outgrows the terrarium, the family takes it back to the Nile to release it into the wild.  They need to take it to the south side of the Aswan Dam, because it's illegal to release crocodiles into the northern part.
One time I asked Karim to tell me how they go about transporting a full-grown crocodile and releasing it without getting attacked in the process.  He told me they wrap a scarf around its jaws, to hold them shut, and they wrap a second scarf to secure the tail next to the body.  (An adult crocodile's powerful tail can easily sweep a person off his feet.)  Next, several of them lift the crocodile into the back of a truck, and drive it to the shore of the Nile. Upon arrival, they remove the crocodile from the truck. Then comes the delicate process of removing the scarves.  He said typically the crocodiles don't stay around to attack.  They're happy to head straight for the water and swim away.
The Nubian homes who feature these tours generally acquire their crocodiles by collecting crocodile eggs.  They hatch the eggs, then raise the baby crocodiles to adulthood.  It is possible for tourists to pose for photos with the babies, as I am doing here.  I have noticed that the Nubians handle the baby crocodiles carefully, to avoid harming them.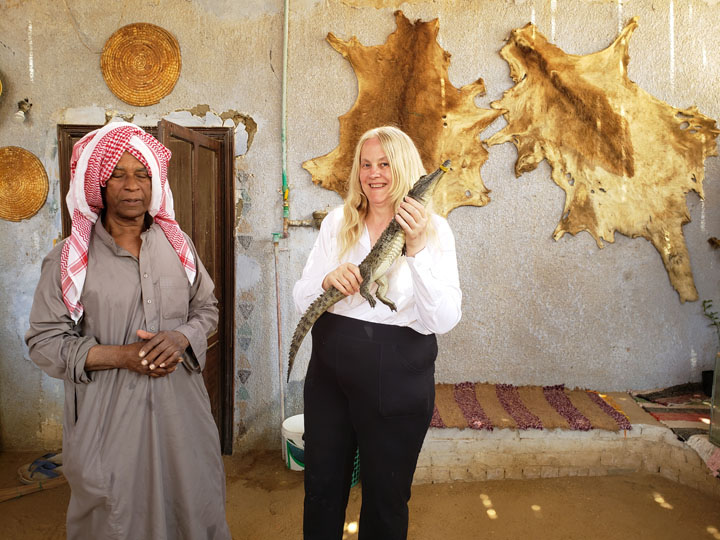 Other Places Crocodiles Turn Up
Sometimes you'll encounter preserved crocodiles in other interesting places.  For example, Karim displays this crocodile head on his boat. It has a plastic fish in its mouth:
Crocodiles Elsewhere
Although the strongest crocodile influence I've seen in Egypt has been among the Nubian people, ancient Egyptians have honored crocodiles for thousands of years, going back to the Old Kingdom. Here are some crocodiles I have seen outside of a Nubian context.
Temple of Kom Ombo
The ancient Egyptian god Sobek was often depicted in Egyptian art as either a crocodile, or as a man with the head of a crocodile. The oldest mentions of him appear in the Pyramid Texts of Saqqara, from 4,000 years ago.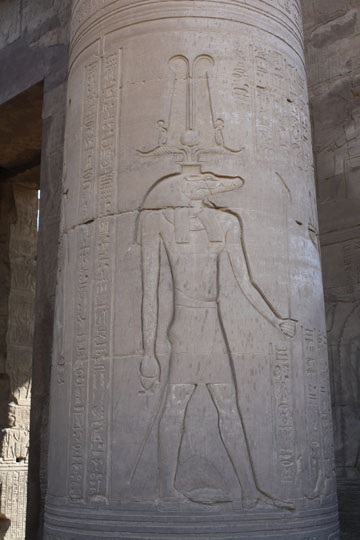 This pillar resides in the temple at the town of Kom Ombo, Egypt.   The temple at Kom Ombo, Egypt is unique because it honors two different gods – Sobek (with a crocodile head) and Horus the Elder (with a falcon head).
Kom Ombo was built during the period of the Greek Pharaohs, from 180 BCE to 47 BCE.  It includes a fabulous on-site Crocodile Museum featuring crocodile mummies. Unfortunately, the Crocodile Museum does not allow visitors to take photos.
Agricultural Museum in Cairo
In 2016, I visited the Agricultural Museum in Cairo and saw these preserved crocodiles on display as one of the exhibits.  This museum began a renovation project in 2017, so at this point I don't know whether it will still feature this exhibit when it reopens.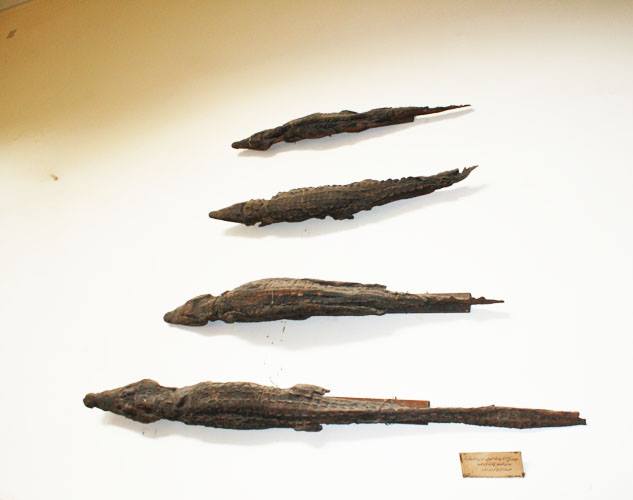 Other Posts Mentioning Aswan on this Site
Other Posts Related to Nubian Culture at This Blog