In my travels over the years, I've visited many places that had experienced issues with terrorism, including London and Paris. I live in a country, the U.S., which has experienced many terror incidents as well.
When I received word that my IBM Corporate Service Corps assignment would be in Senegal, my husband immediately jumped online to investigate safety and security issues. He found that in Senegal, petty crime such as pickpocketing provided reason to be cautious, but violent crime was not a serious problem there.
I felt comfortable with the idea of going to Senegal.  I expected it to be a wonderful adventure.  (And it was!) Still, it was somewhat disconcerting when a terror threat warning was issued while I was there.
Our First Inkling of a Possible Issue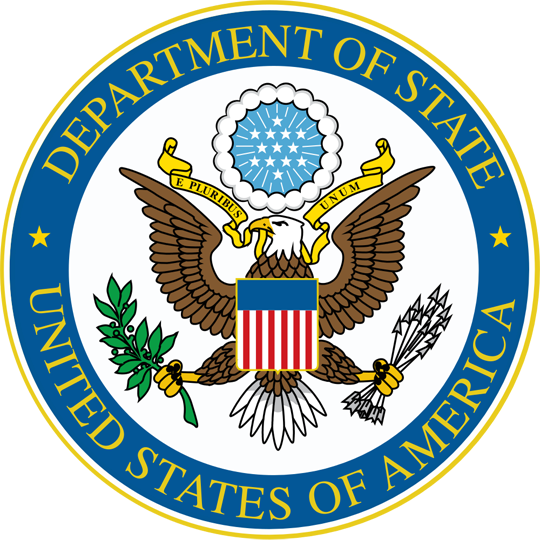 On October 19, the U.S. government issued a travel warning for citizens visiting Senegal:
The U.S. Embassy advises U.S. citizens to be vigilant when visiting establishments and staying at hotels frequented by Westerners due to a credible threat related to potential terrorist activity in Dakar.
U.S. Embassy personnel are not permitted to stay at seaside hotels in Dakar until the first week of December. U.S. citizens should expect to encounter increased levels of security screening while traveling around Dakar.
Review your personal security plans, remain aware of your surroundings, including local events, and monitor local news stations for updates. Be vigilant and take appropriate steps to enhance your personal security.
The warning was issued while our group was at dinner, and at the time we didn't have any way of knowing about it.  When we returned to our hotel, we noticed that the security measures for entering the hotel compound had been heightened, and we thought it odd, but we didn't know why.  Once we were inside with wi-fi access and checked email,  those of us from the U.S.  received the above email notification from the U.S. Department of State.  Okay, now we understood why hotel security had tightened.
I was concerned, of course, but not frightened.  The tone of the alert suggested people should exercise a practical level of caution, but didn't sound alarming.
Receiving Additional Detail
The next day, we learned a little more. There were unconfirmed reports that security forces had thwarted an alleged extremist plot to target a seafront hotel in the city of Dakar. The reports alleged that three suspects linked to this plot with ties to Al-Qaeda had been arrested in an unnamed country near the Senegalese border, and were being held at an undisclosed location.
These new details did not appear on the U.S. Department of State's web site, nor was I able to find anything about it in web searches of English-language media. The only articles I could find in web searches of English media were reports saying the U.S. government had issued the ambiguous warning I quoted above and the Canadians had shared it.
It was a bit concerning to learn that the thwarted terrorists had planned to target a seafront hotel, considering the fact that we were staying at a seafront hotel!  We sent a note to IBM's program manager for Corporate Service Corps to ask for an opinion about this, and waited for a response.
What We Did About It
The next day, IBM assembled us for a meeting.  IBM Security told us that they had assessed the situation, and had determined that we were not in immediate danger. We would be allowed to stay in Senegal and continue working on our projects.  However, we were required to move from our seafront hotel to a different place that was more inland and offered tighter security.  We were given only an hour to pack.
IBM Security told us that we could not go to restaurants along the beach, nor could we go shopping at the Sea Plaza mall, which is seafront.
At the time, we were forbidden to tell anyone outside of our group that we were moving, not even the staff at our original hotel.  For security reasons, we were also told not to disclose what the contents of our briefing were.
The Lost Weekend
A couple of outings we had planned for the weekend of October 21-22 were canceled for security reasons.  I now think of this as The Lost Weekend.
This did affect our morale.  We felt kind of imprisoned at our new hotel, since our weekend plans had been canceled.  We still had each other, and we tried to make the best of it by hanging out together and working on our job assignments.   We enjoyed each other's company, but we would have preferred to enjoy it having adventures together!  We started to explore the neighborhood near our new hotel, and found some restaurants with good food.
Some of us told our families about the terror threat, while others didn't want to worry them.  I did tell my husband.  I felt it would be best that he hear about it from me, rather than stumbling across the articles in the international news media. It seemed best to let him know that I was aware, and that IBM Security was involved.
Hotel Stuff
Our original hotel had been a beautiful seafront property with its own private beach.  The new one was a dump. The hallways of the new one smelled bad, and the carpets were old. In my room, there was a stain on the floor about two feet long and one foot wide.
The new place's conference rooms were already fully booked for another group's meetings, so there were no conference rooms available for our use to work on our projects.  We tried working in the hotel bar, which was very noisy and distracting. We tried working in the hotel's "gold club" lounge, which was not air conditioned, and was noisy. All in all, this new hotel provided a poor environment for doing the work we were in Senegal to do.
And After That…
After a week, IBM Security decided to let us go on outings that met their safety criteria.
I was so happy we received the approval to visit Pink Lake, Gorée Island, and Bandia Reserve.  Read about our trip to amazing Pink Lake and our photo safari at Bandia Reserve elsewhere here on my blog.  I'll post about Gorée Island soon….
A nearby, nicer hotel became available after a large event finished and its attendees left. IBM Security approved moving us to this place, which also greatly improved our morale.  I appreciated having a guest room that smelled clean and didn't have a large stain on the floor.  It was much easier to work on our project in the new place's well-equipped, air-conditioned conference room after dealing with the second hotel's problems. The third hotel's security provisions were similar to the second place, but it was a much better environment, both to work and to live in for the remainder of our trip.
Although this newer hotel was not seafront, it was close enough to the ocean to provide this beautiful view of the sunrise.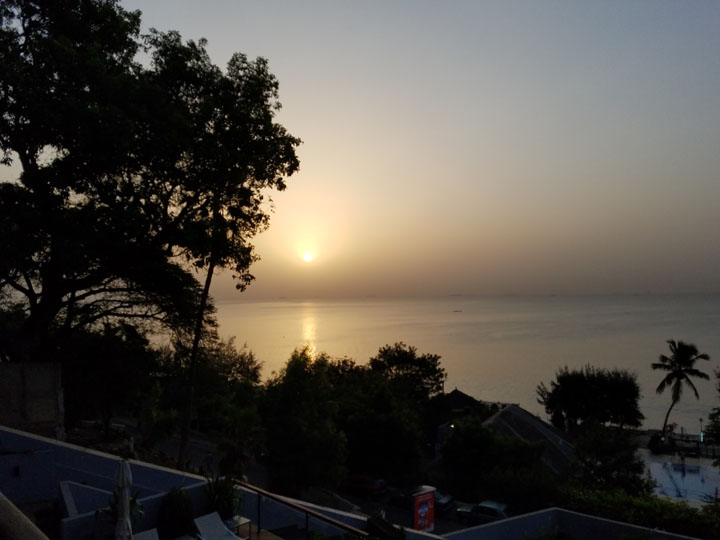 Closing Thoughts
It was strange finding ourselves in the midst of a terror alert.  I was concerned, which I think was a sensible response, but I was not fearful. I felt that if the threat was truly serious, IBM Security would have decided to send us home immediately. IBM Security conducts  reviews of Corporate Service Corps locations before approving an assignment, and they tend to be very cautious about our safety while we're deployed.
Of course, Dakar is a large city, and it's always important to  be mindful of personal safety when in a large, unfamiliar city.  I took the same precautions there that I would take in San Francisco or Chicago.  I felt safer in Dakar than I have in certain U.S. cities.
Would I consider going back to Senegal for a visit in the future? Absolutely. And yes, I would consider staying at a seafront hotel again.  According to a November 2017 article in The Telegraph, Senegal still is considered to have a low level of risk compared to the United States and many European countries.
In case you're wondering why I was in Senegal for a month, I was there as part of the IBM Corporate Service Corps.   You can read more about that here:  https://roaming-jewel.com/2017/10/17/ibmcsc/